新的 Boot Camp 1.2b,Mac 也能執行 Vista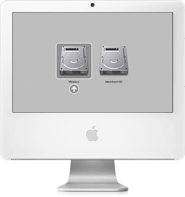 Boot Camp 1.2 beta
Apple 週三將 Boot Camp 更新至 1.2 版,在這個版本的 Boot Camp 中,最重要的新功能就是加入了對 Windows Vista (32 位元) 的支援。根據 Boot Camp 網頁上的說明,這個版本也包含了更新的驅動程式,包含觸控式軌跡板, AppleTime, (synch), 音訊卡, 圖形顯示卡, 數據機以及 iSight 攝影機。Apple Remote 現在也已支援。
Boot Camp 是 Apple 對在 Mac 上安裝並執行 Windows 的解決方案,可讓 Intel-based Mac 的擁有者除了安裝 Mac OS X 外,也可安裝 Windows XP,並用該系統開機。與其他虛擬環境解決方案 (如 Parallels Desktop) 不同的是,Apple 的解決方案需要使用者將機器重新開機,才能從一個作業系統切換至另一個作業系統。
Boot Camp 原本是在 2006 年四月份推出的,最終的版本預計會在 2007 年的新作業系統 Mac OS X 10.5 "Leopard" 中釋出。
Boot Camp 1.2 beta includes:

Support for Windows Vista (32-bit)
Updated drivers, including but not limited to trackpad, AppleTime (synch), audio, graphics, modem, iSight camera
Support the Apple Remote (works with iTunes and Windows Media Player)
A Windows system tray icon for easy access to Boot Camp information and actions
Improved keyboard support for Korean, Chinese, Swedish, Danish, Norwegian, Finnish, Russian, and French Canadian
Improved Windows driver installation experience
Updated documentation and Boot Camp on-line help in Windows
Apple Software Update (for Windows XP and Vista)
若要安裝 Vista,您需有完整版本的 Vista (而非升級版):Vista Home Basic, Home Premium, Business 或 Ultimate,以及至少須為 Mac OS X 10.4.6。
此外,如果您先前已安裝了 Boot Camp,您無須重新分割 Windows 磁碟區。
Updating to Boot Camp 1.2 beta If you previously installed Boot Camp beta, you can easily update to Boot Camp 1.2 beta. You don't need to partition your hard drive again (unless you want to change its size) or reinstall your Macintosh and Windows software or documents, but it's very important to update the Boot Camp Assistant software, create a new Mac Drivers CD and install the updated software it contains onto Windows. Complete instructions are provided in the Installation and Setup Guide included with the Boot Camp 1.2 beta software.
Boot Camp 1.2 beta 至少須為 Mac OS X 10.4.6 或更新版本、最新的 EFI Boot ROM 以及 SMC 韌體更新、至少須有 10GB 的免費可用硬碟空間;當然,有台 Intel-based Mac 是必要的。
支援的 Windows 版本如下:
A bona fide full, 32-bit, single-disc version of Microsoft Windows: Windows XP Home Edition with Service Pack 2, Windows XP Professional with Service Pack 2, WIndows Vista Home Basic, Windows Vista Home Premium, Windows Vista Business, or Windows Vista Ultimate.
link: Apple - Boot Camp (Apple)