Tofu

Amar Sagoo 推出了
Tofu 2.0
,這是個適用於電腦螢幕的文本閱讀程式,可將文字內容以多重直欄的方式呈現,就像報紙或雜誌的版面一樣,而不是以單一直式的版面顯示文本內容。當您閱讀其中的文件內容時,可以橫向捲動來查看更多文字內容,而非以縱向的方式來捲視。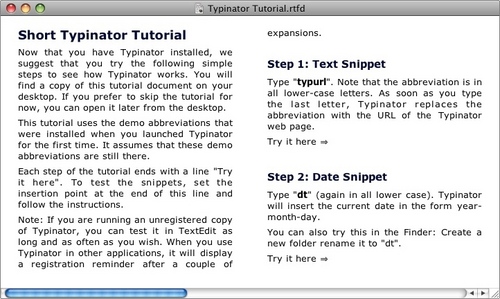 此次推出的新版本與
2.0a2
的版本表面上並沒有太大差異,已是 Universal Binary,新增對 PDF 文件的支援,但同時亦改善了全螢幕檢視的表現和進行其他變更。
Changes since Tofu 2.0a2:

Setting colours works again.
Command-Equals now works in full-screen mode to make text bigger.
Using Command-Equals no longer beeps.
The Dock is shown when you close the last window from full-screen mode (unless your Dock is usually hidden).
Closing an unsaved document while in full-screen mode or after exiting full-screen mode will correctly ask to save it (if set in the preferences).
Tofu 是免費程式,系統需求為 Mac OS X 10.4 或更新版本。更多詳細的介紹,可以參考下方的相關文章連結。
link 1: Tofu 2.0 (Amar Sagoo)
link 2: Tofu 相關文章 (applewoods archives)